The most exciting thing would have been Mitchell's 4th birthday! I can't believe its been 4 years since we brought this little man into the world. He has grown and changed so much!
So (since we weren't actually home for his birthday) .....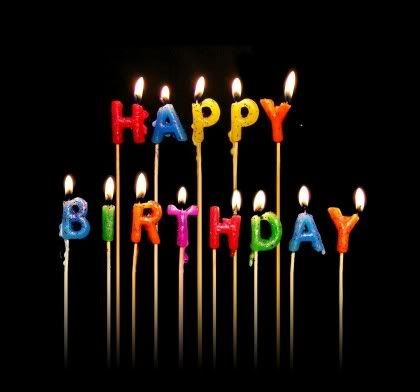 We spent the weekend in our soon to be new home of Bombala and celebrated with some family there. It was soooooo cold though! We brought Mitchell a new trampoline for his birthday, you know those round ones with the nets around. Its huge! He loves it and spent the entire weekend on it (and wondered why he had sore legs! lol!). I ended up having to go inside and take Zach and Anna with me, when I say it was cold I mean their hands went purple cold! Not one of things I am looking forward to. He did get a few nice things for his birthday. Nanny brought him a Fisher Price Digital Arts & Craft Studio. It pretty cool although the kids have spent a fair bit of time on it and I am yet to have a go ... hehehe. Along with a log truck (just like Daddy's!) and some new clothes, all of which went down very well. Uncle Matt got him some new computer games - educational ones thankfully and Uncle Dan and Auntie Melissa came to Bombala to visit us and they gave him a Tonka Cement Mixer (The big metal ones). This adds to his collection of 4 already. Tonka's great though, definately something we will be able to pass down to Zach when he gets older. When we got home I had a few little things here still to give him, a car carrier truck, a mini cooking set (which he LOVES! Only $10 from Aldi) and a couple of little Bob take along things. Over all he has had a great birthday. And for those of you that want to see photos - there is none :( Stupid me left the camera at home and my phone doesn't take real good photos. We are having a birthday party here on August 2nd so we will definately have photos then. Make sure you check back because we having a 'Safari Party'! Really looking forward to seeing how it turns out. We are in the process of the planning at the moment. Here is a sample of the invite we sent out..
Here is Mitchell (and Ashlee) using his new cooking set to make mini scones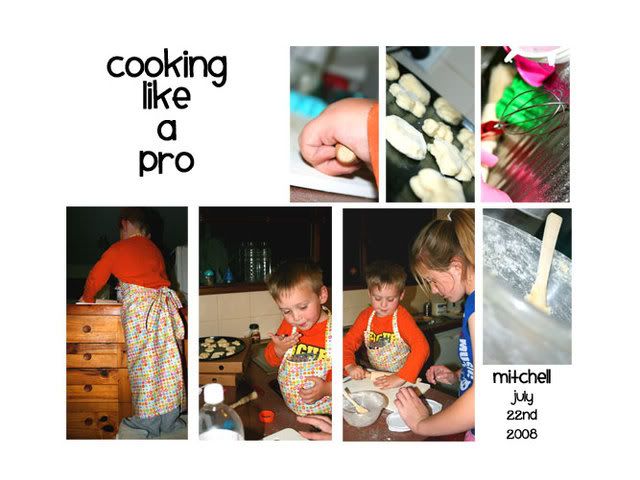 Other news...Anna is now offically into EVERYTHING! She can pull to stand! I had yet to baby proof some things and of course they are the first things she got into but nothing was dangerous and I'm sure she had a lot of fun with the wipes on the coffee table and the photo frames from the TV unit. Now this I do have photos of!!
Isn't she so cute! We now have 2 bottom teeth and 2 top teeth too! (Top teeth are front left and side left - IYKWIM) They are growing so fast. Here are a couple of extra cute piccies of Zachy too just cause I love him :)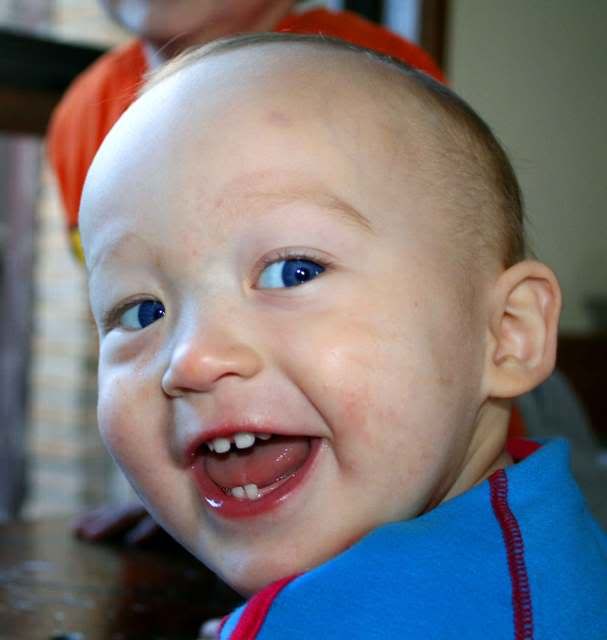 And an extra one of Anna showing off her new skill...

Also notice my little try at story boards??? What do you think?
Something else I want to mention and can't believe I let pass by with out a mention!
July 14th 2007 was a very special day for us here in this household. It was the day that we were finally able to bring our little Zachary and Anna home from the hospital after almost 50 days! They weighed in at a grand total of: Zachary - 5lb 13oz and Anna - 5lb 7oz on discharge.
This past July 14th was one beautiful year since then. I still have to pinch myself some days just thinking about the fact that we have happy and healthy twins! They really are such a joy as all our children are and we just feel so blessed to have them.
How much have they grown! I still get really clucky over these photos....
Best be off now, school pick up soon and as its so cold outside (and lovely and warm inside) I need to get these kids rugged up to venture out. We are also dropping by some of Mitchell's little friends to drop off their invitations.
Take care everyone!