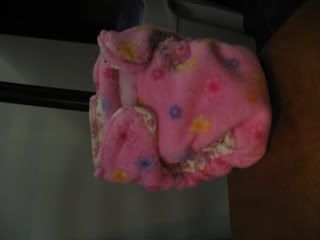 but its cute .... I had an attempt at making a fleece pocket nappy and I must say that it really is not what I though it would be.
I went to fast and made (quite) a few mistakes, I'm really not happy with myself.
On the other hand I have tried it out on my little girl and it does work! It will definately be an 'at home' nappy though. Not something to be overly proud of.
My next attempt will be with blue fabric for my little boy and I will definately be taking more care on this one! My even change my pattern or just make it a fitted one (a little easier for me being a 'newbie'!)