Well I have found another one. I have fallen in love with Digital Scrapbooking! As we are trying to sell our house and will be moving interstate I have had to pack up all my paper scrapbooking. I really missed it - until now! I can now scrap to my hearts content and the bonus is that it is soooo much cheaper. Don't get me wrong, I LOVE paper scrapping but this is the next best thing. Here are a few pages that I have finished recently.
This one titled 'Anna'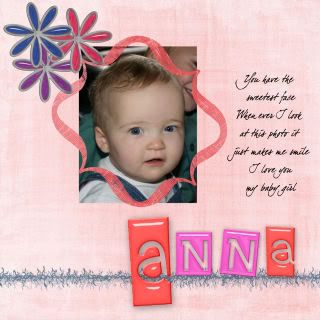 And this one titled 'One touch'
I tell you its addictive!
Zach & Anna's 1st birthday passed nicely. We didn't do anything special on the day apart from pressies but we are having a BBQ/party on saturday for them. That will be nice. We only got them one thing each, they really want for nothing, I did also get them one combined present that they will get on saturday as mum has it with her at the moment. Now for some photos for you.
Zachary with his truck - the battle now is him getting to play with it. Mitchell loves it!
Anna with her first little dolly - so sweet!
And a photo of the two pressies
Ok its late - or should I say early *naughty* so I better hit the hay as they say. And to Mel - I will definately add you to my flickr!
Night night all!