Today is just one of those days...I feel so blar. We are moving interstate in 9 days and do you think I have anything packed ..... ah, no. Well thats not entirely true. I have packed up all the books and scrapbooking stuff in the study and I still have a few boxes out in the shed that never got unpacked when we moved here back in 2002! Oh, naughty me. I guess I really don't need any of that stuff in there. I have been through it over the last few years and culled in down to only a few boxes leaving just the stuff that I wanted to keep but do you think I can remember what is even in them now?! I guess I will find out soon enough - lol! Oh
Organizing Junkie
I need your help!
I am really looking forward to the move though, I really am. Its just the packing I hate. When we do finally arrive at our new destination I am looking forward to unpacking and setting up house again. My big plan for new style is minimalist - oh, stop laughing! I'm really sick of having all the stuff around! I just want to have the things I need and use around. With a family of six including two 'babies' it is hard to cull stuff down but I'm REALLY going to try.
One thing I am really looking forward to is HAVING OUR OWN ROOM AGAIN! The bedrooms are now big enough for Mitchell, Zachary and Anna to share a room. This means no more sleepless nights because Zach and Anna won't sleep through the snoring! Yippee! No not me snoring, its Brett. Since he has been away they have been great at night. When ever he comes home for the weekend I swear I never get any sleep. Or I spend it on the couch with either Zach or Anna or if I'm really lucky - BOTH. I'm looking forward to setting up there room, Mitchell will finally have his new 'Ferrari Bed'! It was a gift from his Auntie Linda (she brought it from a friend of her's that hand made it - pretty cool huh?!) but didn't fit in his room here in Bairnsdale - he is going to be wrapped. Here is what it looks like.... (these are photos that were sent to us before we got it so we could see what it looked like)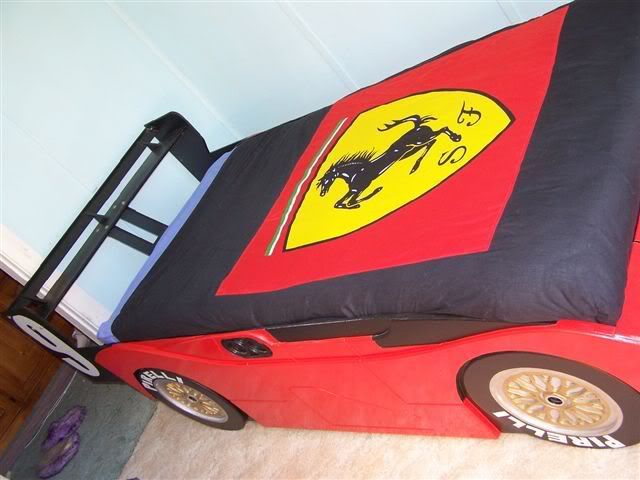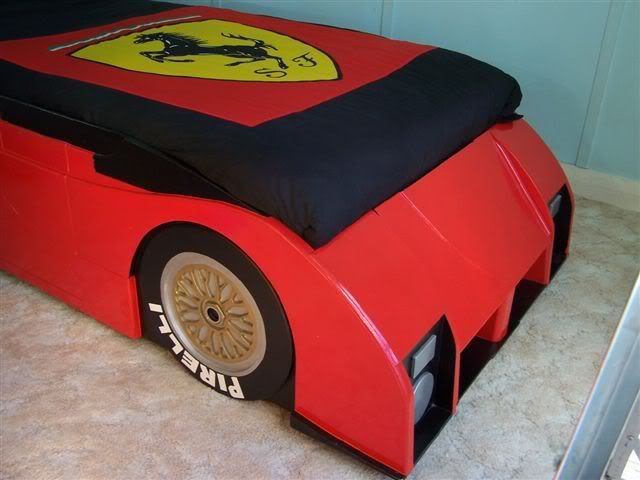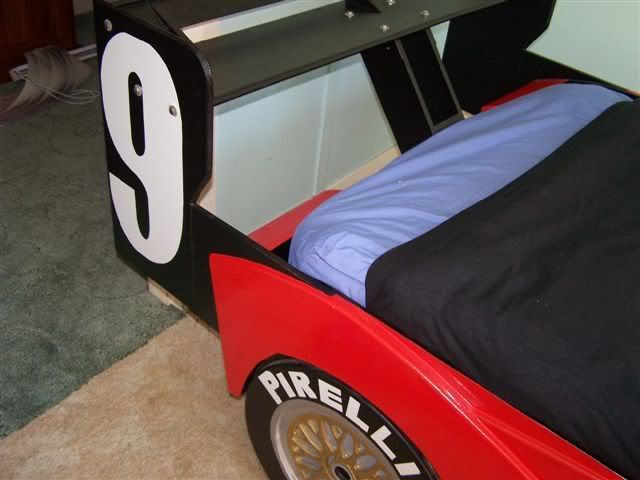 Ok, enought about that. I really should give you an update about Mitchell's wonderful Safari Party but I want to add pictures and since I can't find the cord for the camera (? - have no idea where it would be) I will leave it for now and (hopefully) get to that before we move. It was a lot of fun though!
I really want to show you some really cute pics of all the kids but as I said, no camera cord and it is really getting to me. I will probably give in shortly and go and spend some time on the PC (I use the laptop more then the PC so I can keep an eye on the kids while I'm on the computer.) and just put the memory card in the printer (that is hooked to the computer) and load them on that way. Really don't want to though. Oh yeah that's another thing I'm looking forward to. Having the computer more accessible - we brought a brand new computer with a flat screen etc and I never really use it because its in the office and I can't keep an eye on the kids.
Right, now I'm just rambling (and I REALLY need to go and pack something!) so I guess I better cut this short. There is so much more to tell - regarding Anna seeing the Paediatric Opthamologist (now how do you spell that ?) and Zach needing to see an Occupational Therapist (which is happening on Wednesday), oh and Mitchell doing my head in at the moment with his 4 year old antics but I will need to do that later tonight - might even come across my camera cord and have some photos to add!
I really would like to add two more things....Please add
baby Stellan
to your prayer list! Although he is yet to be born he has touched so many hearts already, now he really needs the Lord to touch his own little heart. I won't go into detail as it is quite an indepth story but you can read all it here at
Mckmama's Blog
. The progress that little Stellan is making at this time has truely restored my faith in the Lord.
Also please pray for baby Rhys. Little Rhys was born; along with his
twin brother Bently
who sadly passed away not long after birth due to an infection; at 24 weeks gestation on July 16th 2008. You can read thier story and get updates over at
The OK Corral
. Little Rhys is having his ups and downs and by no means 'out of the woods' yet. Weighing a tiny 1lb 7oz at birth he has a long road ahead and needs your prayer.
Being a mummy to premature twins myself this story has really touched my heart. It has also made me truely thankful to the Lord for allowing our two little ones to hold out to the magical 29 weeks before making an entrance as I could never imagine having to say goodbye to either of them as Cody and Candice have had to to little Bently. Compared to the rough road they are travelling we have had a fairly smooth one and for this I am TRUELY thankful!
Also you must check out
these two little beauties
that Corrie has delivered recently! Head on over to
Retromummy
to see for yourself! I tell you our population is multiplying as we speak!
I will leave you with some pages I have scrapped over the last few weeks.
Take care!