For the last few days
Ashlee
has
been at me
for a new
pencil case
. Her
old one
had really
bit the dust
. Being a small town there was
no way
I was paying the
ridiculous amount
they wanted for a small one down at the local general store!
Then
.....
Ashlee
had the brilliant idea to '
just make one
!'. Well, you say,
just make one
.......easy for some to say but
I
have never just made one before and
only had a day
to do it in. A bit
daunting
really. So I decided to
just do it
and see how it all went.
Ashlee
picked out the fabric she wanted, I decided to use
calico for the lining
and I also added
a middle layer of PUL
(this I use when
making MCN's
) just to give it that extra bit of leak proof. Leaking pens can look ugly! So we don't want to keep you waiting, after a few hours sewing, a trip to the Op Shop for a white zip (which we picked up for a few cents), a bit of unpicking and re-sewing - zippers on pencil cases aren't my thing, I have never put a zipper on a pencil case - we finally came up with this..........(excuse the photos - sun was going down and it
wasn't the best light
, oh and
promise
not to look
to close
!)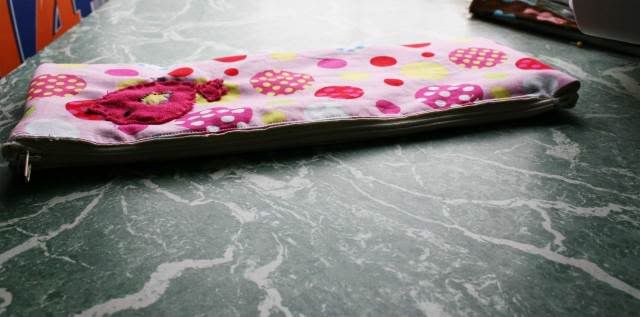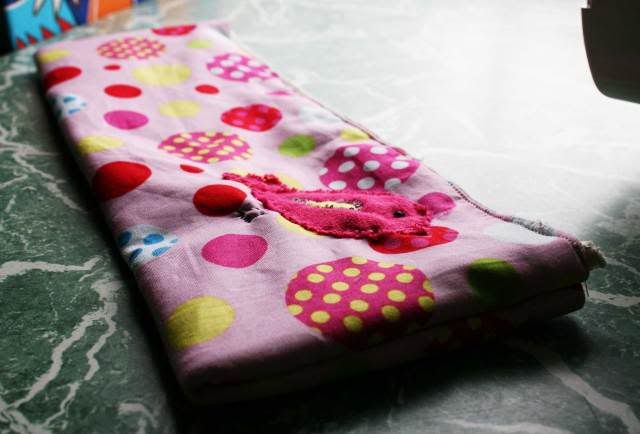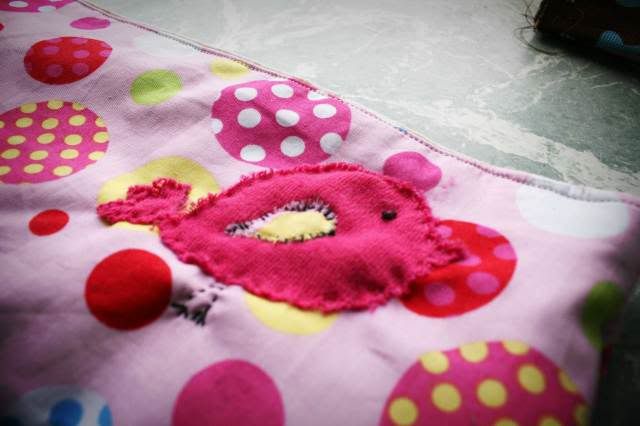 Looks good
,
Ashlee
loves it. The
little birdie
was meant to have a sort of
rustic frayed edge
look going on. Didn't come out to bad
but not as I had pictured
. Look out for more little things like this though because
I did enjoy trying something new
.
Now
when I say
plus
Sunday Stash
(week 2) I totally mean '
take a look at the fabric on the pencil case
'!. I kinda like it -
well I did buy it
- but
never
thought I would be making a
pencil case
out of it! Find more players
here
.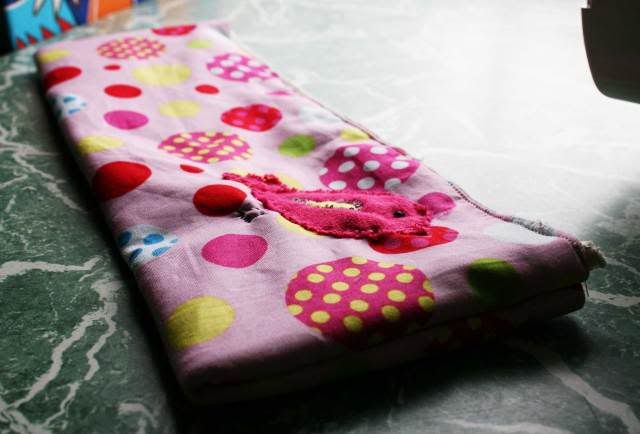 I also
promised
some photos of the
super yummy Apple
(and
Blackberry
)
Custard Slice
. Now bear with me as my 4 slice tins have gone walk about (
grrrrrrr!
) I can not for the life of me find them so this one got cooked in a smaller cake tin.
Worked fine I guess
- definitely didn't change the taste, it
was
soooooo
yummy! To explain the blackberries, I only had one tin and being a weekend the shops weren't open. My lovely neighbour kindly offered me her last tub of homemade stewed blackberries! I jumped at the offer and was very grateful.
And here is
the recipe
for you all:
--------------------------------------------------------------------------------------------------
Apple Custard Slice



Makes about

: 16


Prep Time

: 25 minutes


Cooking

: 1 hour

1 cup plain flour, sifted
1/2 cup brown sugar
1/2 cup desiccated coconut
125g butter, melted
icing sugar, to dust


FILLING

:
800g can pie apple
(I used 500g pie apple & 300g stewed blackberries)
3/4 cup thickened cream
2 eggs
2 tbsp caster sugar


TOPPING

:
1/2 cup plain flour
1/2 cup slivered almonds (I didn't use these)
1/3 cup brown sugar
60g butter, melted



1

. Preheat oven to 180c. Lightly grease and line an 18 x 28cm slice pan with baking paper.


2

. Combine flour, brown sugar, coconut. Blend in butter. Press mix firmly into prepared pan. Bake for 15 - 20 minutes until lightly browned, allow to cool.


3

.

FILLING

: Spread apple (& blackberries mix) over base. Whisk together cream, eggs, caster sugar. Pour over apple (& blackberries). Bake for 20 - 25 minutes until firm.


4

.

TOPPING

: Combine all the ingredients. Sprinkle evenly over slice. Bake for 12 - 15 minutes until golden. Allow to cool in pan. Dust with icing sugar, cut into squares and serve! YUMMY!

---------------------------------------------------------------------------------------------------

In other news
, while I was getting the photo's off the camera
I came across
some that I didn't take -
which is rare
.
Daddy
's been taking pictures of his boy! Here is
Zachary
,
my budding artist
.
....And
check out
the new teeth he is sporting now!
That brings the
total up to 10
with the two new molars he has recently cut.
Zach
is such a
determined little man
, even with
his limitations
he
surprises us every single day
! Attempting to crawl, trying to climb -
unfortunately falling a lot
, but trying all the same. His speech is behind
but he gets around it
and he is super cute to boot!
We also
got the long awaited phone call
from
DADHC
regarding
Zach's
intake
. He
has been accepted
and will start his therapy
very soon
.
Thank you
to all those who prayed!
This will mean
that all his therapy will be
government funded
and this will
save us thousands
! We are very happy about this. We are also
heading off
on Thursday to Sydney to meet with
Dr Lowe
, that I
mentioned before
, to
hopefully
get some more help. Unfortunately this will cost about
$350
just to walk in the door but from what I hear
it is worth it
.
Alright
better be heading off
- I'm trying to decide (
by tomorrow
!) if I'm going to
join in on
the fun with
Sew, Mama, Sew! Give-Away Day
.......do
I
have enough confidence??